Why shop at Lucky Duck Toys?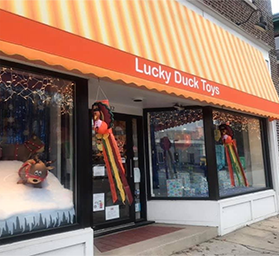 Lucky Duck Toys is an award-winning, independently-owned, specialty toy store, located in the quaint town of Bryn Mawr, Pa. Our store was founded in 2004, in nearby Wayne, to serve the needs of families all along the Main Line area of Philadelphia. We continue to do that today in our newest location, bringing you the very BEST in playthings for children, young and old!
Our highly-trained employees are eager to help you select the perfect gift for the special child in your life. We have the most extensive selection in the area to choose from, stocking over 5000 unique items in our beautiful store! Once your gift is selected, we will gift wrap your purchase for free, and send you on your way. We make it easy for you!
Why shop at Lucky Duck Toys? We know you have choices. It's pretty easy to shop with some of those "other guys", but it's easy to shop here as well! We offer on-line ordering, phone ordering, and in-person shopping in our store. In addition, we offer curbside delivery, free local delivery, and we also ship using USPS, UPS, and other major carriers.
We are thrilled you are visiting our website today! Look around and see some of the FABULOUS toys we have for children, young and old. If you are in the area, stop in and see our toys in person! We are here for you with our physical store open 6 days a week and our website open 24/7. Thanks for supporting our small business!